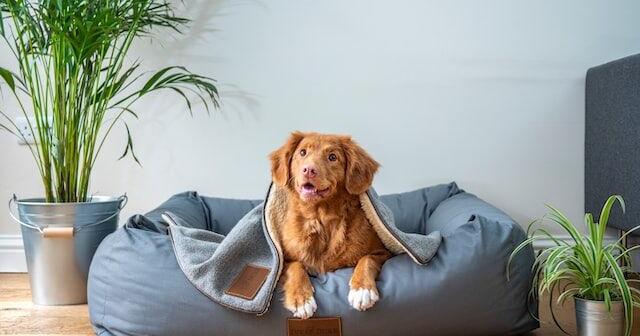 4 Ways to Make Your Home Design Pet Friendly | Interior design
When living with a furry best friend, specific interior design considerations must be made to ensure optimal comfort for you and your pet. Pets can be allergic to certain materials and be hyperactive and full of energy and vitality. To avoid damaging any property you deem necessary and your pet, use these tips to make your home an extremely pet-friendly oasis.
1. Walls matter
Pets can do a lot of damage, especially if they're squatting against walls, knocking over, or putting their muddy paws on paint. If you have more than one furry inhabitant, you should consider mess control and either have washable wallpaper on your walls or washable paint.
You can think about restricting the movement of pets in certain rooms like the kitchen and living room and prohibiting entry into bedrooms using tools like a lockable baby gate. Semi or fully plastic emulsions in wall paint are excellent for a home with pets or children as most stains can be cleaned with water and a sponge.
High-gloss paint can have a similar effect due to its slippery surface, making it easier to wipe off paw prints or mud. For your most frequently used areas, always use wallpaper that is washable or that is cheap and hard to find and replace. If you hung sentimentally important decorative pieces, such as a custom home portrait, make sure they are up high and out of reach of your pets.
2. Choose fabrics and materials carefully
Pets like to find nice, cozy places to nap, and they can certainly be attracted to soft blankets or delicate upholstery. If you have a valuable handmade rug, it may be best not to display it in areas where your pets spend most of their time. It makes all the difference for pet owners to be careful about the fabrics they choose for their furniture, wall murals and rugs, so they don't waste money and make cleaning up afterwards. their pets even more difficult.
For example, having your dog wear a special soft vegan leather dog collar can add to their comfort unlike a regular collar. Use faux suede and faux leather on your chairs and sofas (if you have a separate guest lounge that closes or locks, you can use more expensive materials that require more care and aren't meant for regular use) .
Faux leather and related fabrics age well, reduce carbon footprint and promote animal friendliness. Using machine washable covers for your furniture can make housekeeping easier, as you can vacuum and wash the covers weekly. If your pet sheds all the time, buy fabrics close to their natural color, so they show less before you've had a chance to vacuum.
3. Use natural and organic cleaning products
Regular heavy-duty household cleaning products like drain cleaners, surface sprays, air fresheners, and even varieties of dish soap contain harsh chemicals, toxins, and odors. These can be an allergen to your pet and deteriorate their health and immunity over time. If you have a sensitive animal or more than one pet in your home, use organic, odorless and natural cleaning products throughout the house, especially on utensils and floors where they are most likely to be with in touch. Buy products that say "pet-friendly" on the label and are designed to be safe for pets.
Organic or not, always store cleaning supplies in a closed cupboard out of reach of pets or in a locked cupboard so they can't reach them. Also, never keep toxic chemicals of any kind next to their food because the smell will confuse them. Using vinegar and water for cleaning can provide optimal disinfection without toxicity.
4. Wood and tiles
Carpeting is discouraged by most pet owners, and it can cost you your security deposit even if you rent an apartment in a pet-friendly space. Go for wood or laminate or plain tile flooring, so it's easy to sweep or mop as often as needed. Your bathroom remodeling experts will recommend various varieties of economical floor tiles that are not easily scratched by pet claws and are a dream to clean.