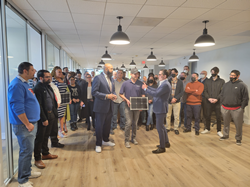 Green Home Systems Announces New Partnership with Panasonic

LOS ANGELES (PRWEB)
March 02, 2022
Green house systemsa national leader in solar and energy storage technologies, announced that it has entered into a strategic supply agreement with Panasonic, a leading manufacturer of solar battery storage and energy services.
As part of the agreement, Green house systems will offer Panasonic the next generation Evervolt 360 Mono Black on Black Panels for residential customers.
Panasonic is the best solar panel on the market today with high efficiency and a triple warranty that will not only cover production but also replacement.
In their own words on Panasonic.com, "Technology should move us all forward. It should enable us to create abundance out of scarcity, fuel the things that make our lives easier, and energize our perpetual ambition for progress. From this mindset, we invest in technological innovation that will inspire and amaze, focusing on five important areas.
The 5 important areas mentioned by Panasonic are smart mobility, sustainable energy, immersive experiences, integrated supply chain and consumer lifestyle.
Regarding the field of sustainable energy, Panasonic states: "For nine consecutive years, Panasonic has been recognized as a leader in sustainability. We have been a pioneer in solar photovoltaic panels, electric vehicle batteries and data center backup battery solutions, as well as new technologies such as hydrogen fuel cells.
Robbie Hebert, Managing Director of Green Home Systems shares: "We are always proud to partner with leaders in the solar industry, but we are especially excited to announce our partnership with Panasonic. As a company that not only provides solar power, but believes in the mission of creating a renewable world, we believe that Panasonic will be a partner who shares our beliefs and always remains at the forefront of technology to help make advance this mission.
Green house systems will be able to offer products from March 1st.
Share the article on social networks or by e-mail: